Before joining the Home Office, I worked as a social researcher for 5 years. I used both qualitative and quantitative methodologies to learn why people behave in certain ways, with the aim of creating positive social change.
Though it was really interesting, I wanted to learn new research skills and to gain more experience in the digital world. While I'd used the internet in my research, I'd never researched how people use the internet.
Which is why I jumped at the chance of becoming a user researcher intern at Home Office Digital, Data and Technology (HODDaT).
Nonstop learning
Since starting my internship 8 months ago, I've been on a nonstop learning curve. My first role was on the 'Having a baby' discovery – a high-level project that explored the services new parents use, for example registering the birth and applying for baby's first passport.
I was part of a small but experienced team – a senior service designer, a senior user researcher and me. Just being around them was invaluable. They were really happy to share their knowledge and help me. I learnt so much – not just about my role, but also about how different disciplines fit together on a team.
We went around the country for our research, often videoing sessions with users. Some of the situations I observed were highly emotional, especially after the discovery was expanded to include death registrations. It could be nerve-wracking, but I built on my experience of how to handle sensitive situations.
I've also been given the task of managing the fortnightly User Research and Design meet-ups. These are useful in so many ways. It's a big team, with people working at different places and on different services, so they're a chance for us to come together to share what we're up to. They make me realise I'm part of a community.
Other firsts including writing my first research plan – an outline of how research will take place – and recruiting participants. I've also learnt the necessity of including users with access and assisted digital needs in all rounds of research to make sure we're building services that everyone can use.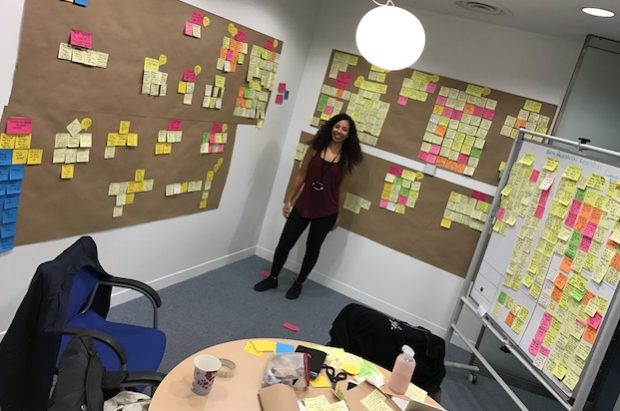 Personal growth
As well as getting practical work experience, the internship has also allowed me to develop broader skills.
I was really excited to be accepted on the Whitehall & Industry Group's (WIG) Future Leaders programme. WIG was created so people from a wide range of organisations can get together to share knowledge. The Future Leaders Programme was designed for people in the early stages of their careers, identified with high potential.
Already this course has taught me so much about presentation and communication and has had a big effect on my confidence. I've also learnt such techniques as persuasion and influencing – important skills to have when I'm sharing research findings with stakeholders.
Another valuable part of the internship – and one that has really helped me develop – was the chance to hook up with a mentor. Officially, I was teamed up with 1 mentor, but in reality I've had 3.
They've taught me so much by sharing their experiences and giving me their time. They've been invaluable – probably one of the most important and positive experiences of my internship so far. So, many thanks Clare, Julianne and Ross.
Go for it
I'm now more than halfway through my internship and I've learnt so much. Not just about user research, but also about working in a multidisciplined agile team, testing then iterating before moving to the next stage.
The pace of learning has been fast and the amount of knowledge I've gained has been amazing. I'd definitely recommend an internship at HODDaT – you'll be pushed and encouraged to challenge yourself, reflect and to deliver while working on important and exciting projects.
Learn more about government internships.