In the assisted digital research team, we think a lot about how to help all people use Home Office services online.
Some people have clear reasons why they don't use online forms and services, for example they don't have a computer or smartphone, or they believe they don't have the skills to do the same task online.
Others say they just prefer to carry on using paper forms. Why? It's a bit like asking someone why they like blue more than they like red: they just do. But that doesn't mean there aren't reasons.
Online forms are different from paper ones and for people who aren't confident in using government digital services on their own, these differences matter.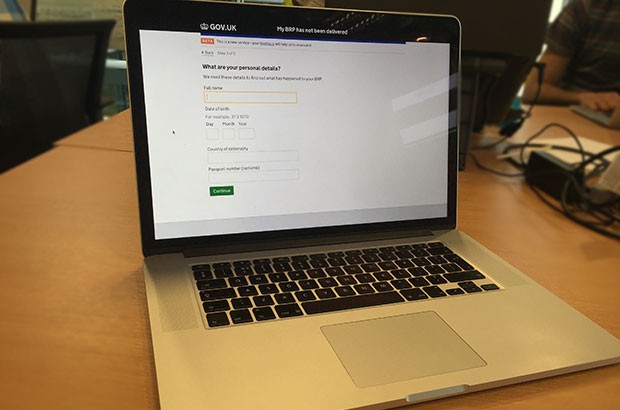 Paper v digital
There are many reasons why some people prefer to fill in paper forms, such as:
You can see the whole form, not just the parts you've answered
You can see all a paper form – from start to finish. Often, online versions show just the first few questions. You must answer these before moving to the next section.
People who aren't used to filling in forms online can find it helpful to see the whole thing before starting. It can be reassuring to know all the questions – but it can also be overwhelming. There are forms that have nearly 100 pages and include questions that they might not need to answer.
You can write what you want, not what the form wants
You must answer an online form in a prescribed way, with no facility to add more detail. If a tick box on a paper form doesn't quite describe your situation, you can write a note to explain.
You know your information can't be seen until you're ready
Until the moment you post a paper form, it belongs to you and you know where it is and who can see it. You can correct it and you can be sure no one will read it until you're ready. If you need to disclose sensitive information, you know it can't be seen until you send it.
This is also the case for online forms, but some people might not realise this. They might be concerned that their information could be read by the department as soon as they type it.
You can answer questions in any order
With a paper form, if you can't yet answer question 3 – maybe you are still gathering information – you can still answer question 8. Many online forms progress linearly – you must answer one question before seeing the next.
This compounds the anxiety and confusion felt by people who have difficulty using the internet, particularly when completing lengthy and complex forms online.
However, digital services can help low-confidence users fill in forms independently with greater accuracy.
How…?
Digital forms tell you you've made a mistake
Online forms have been developed to let users know if they've not completed something correctly. Well-written error messages can help cut down on input errors, for example entering an invalid postcode. Also, you can't proceed in an online form if you've left something blank.
Increasing digital uptake
In our recent research with applicants and intermediaries it became clear we were far more obsessed with the channel than users are. They are just trying to get something done.
We still have a lot of work to do to make our digital services attractive for users who lack the skills or motivation to use them.
We know that assisted digital users would like to:
see all the application form before starting, to feel reassured about what they need to do
know that party filled in applications won't be viewed by a case worker
be able to add information to describe their situation
be able to answer questions in any order
save and restart applications
Taking these things into account when designing online services just might help us win over people who feel scared in the digital world.