At the Home Office we believe our user research is valuable and should be used to inform decision making at all levels.
We want to make it easier for anyone involved in service delivery to understand what users need, so they can make better decisions about what should be done.
We also want to help people who write policy or run operations to use insight effectively to shape the work they do.
So we've been thinking about how best to store and share outputs from research in a way that's consistent, accessible and conforms with our approach to ethics and data protection.
Not doing the same thing twice
We know it's not helpful if user researchers have to start from the beginning each time - it can lead to people doing the same research repeatedly.
It's wasteful, but it can also damage the reputation of user research in the department. If stakeholders are presented with the same findings from several researchers, it's hard for them to see the value of user research as a method.
At first we tried to fix this problem with technology and got very bogged down trying to make tools work in the way we needed. With a limited budget to build anything ourselves, and with huge challenges due to multiple tooling and collaborative spaces across the department, we didn't get very far.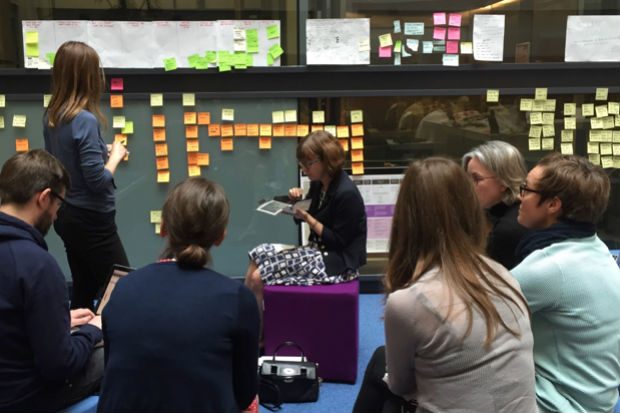 What we store and how we store it
We've now decided to try a simpler approach, focusing on what artefacts researchers create and how they store their work. It's more about what they store, than where they store it.
Lists of user needs are particularly valuable. We group them by key stages or transitions that trigger the need for government services, or where they relate to some kind of policy intent. It's also helpful to include quotes as evidence.
Verbatim transcripts from interviews are also useful outputs. These are lightweight, accessible and have been shown to deliver value again and again when researchers start on new projects.
We make sure to include a summary of what the research was for, the date it was carried out and names of key people involved.
We're trialling the use of open 'outputs' folders containing things that might be most useful to other user researchers working in the same space.
We're asking user researchers to fill their open outputs folders with:
lists of user needs that don't change very often and give a real feel for context
experience maps / actual user journeys
anonymised interview transcripts
research brief, research questions and debriefs
types of users
anonymised case studies
anonymised highlight videos
summary slide decks of insights
photos of research happening and being synthesised, to give a sense that it's real
We think these are the most useful artefacts to other researchers who may be working on projects with the same user groups.
They are often the most accessible too and the ones we hope will be of most use to people beyond our community, like policy makers or operations directors.
We're not sure how well this will work in the long run – there will still be a lot of work curating research assets. But so far, researchers do seem to be engaging with the approach and we're hopeful that, while this may not be the perfect solution, it will allow us to make progress with storing and sharing user research more effectively.