You're a user researcher intern and it's your first turn facilitating a research session. The participant sits opposite you, the senior researcher nods encouragingly.
You look down at the discussion guide you've painstakingly prepared. There's a jumble of advice competing for attention in your head. 'No leading questions', 'Silence can be a valuable tool', 'Mirror the participant's body language.'
You take a deep breath, start the introduction and you're off.
I'd conducted interviews during my psychology degree, but this was different. This would have an impact. It's this point that makes working at Home Office Digital, Data and Technology (DDaT) great. The research you do makes life easier – from the user who's applying for something online, to the caseworker who uses our software to turn that application into a result.
Being an important part of a team that creates simple and successful online user journeys gives me great job satisfaction and motivation – but it's not the only benefit of a career at DDaT.
The chance to learn and grow
Working as an intern at DDaT opens the door to a world of training. I've been offered more opportunities than I can count. For example, I was recommended for the Whitehall & Industry Group's (WIG) Future Leaders course, which gave me a fantastic opportunity to expand my presenting and negotiating skills, as well as the chance to meet others who were taking their first steps in their careers.
There's a wide choice of courses and workshops open to you, letting you shape the direction of your career. You can choose courses that will improve the areas you feel weak in and take your strengths to the next level.
There's also unlimited scope for informal learning. Every member of a team – other researchers, developers, designers, managers – will welcome you, encourage you to ask questions and let you know you can ask for help. Take advantage of this wealth of experience.
You'll also be paired with a mentor – someone to talk to one-to-one about any aspect of your job. They've travelled the path you're on, making their experiences and opinions invaluable.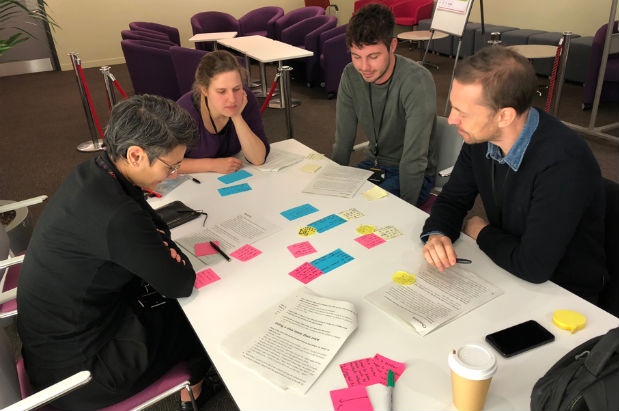 Community spirit
The emphasis on development and improvement extends across the whole department and beyond. This is best demonstrated at the department meet-ups. Internal and external speakers are welcomed, presenting on topics as varied as discourse analysis to password security, all of which feed back into improving the systems we build.
There are also cross government meet-ups, where you can learn what's going on outside the Home Office bubble, as well as make contacts. Hearing how other departments have solved problems similar to ones you might be having is a brilliant resource.
Saying yes to (almost) everything
In your first months as an intern, you'll be offered so many opportunities that it might feel daunting. My first week saw me taking notes at visual impairment accessibility testing in Sheffield, getting in touch with small businesses to recruit research participants, and completing my WIG Future Leaders application.
Accept as many opportunities as you think you can fit in. It might seem intimidating, but you soon realise you have the support of the team around you.
Just the beginning
I learnt so much about user research during my internship – so much more than I ever imagined on my first day. Some things have come naturally, some haven't. But I've learnt from others, and given help and advice to colleagues.
I still have much to learn and far to go, but I feel that there's no better starting point to the world of user research than an internship at the Home Office.
The Home Office Digital Internship Programme is holding open days until March. Find out more and book your place.