Risks as a researcher
User research isn't something you can do from a distance. To get valuable insights you have to get up close and personal with your users - but getting up close can also expose you to risks.
Most are easy to spot and straightforward to mitigate and there's already some great advice on how to manage the everyday risks you might encounter.
Some risks, however, are more complex and less conspicuous.
Psychological risks
Psychological risks fall into this category. They're intangible, quick to overlook and easy to underestimate.
They come in many forms - threats, abuse, stress - but arguably the most significant is vicarious trauma. Put simply, this is the second-hand trauma experienced by those who are exposed to or who witness another person's trauma.
Depending on your research, this risk may be more or less apparent. If you're interviewing or observing participants, some may reveal experiences or emotions which catch you off guard and negatively impact your wellbeing.
So it's important to assess and plan for psychological risks, but what's your best strategy?
Resilience
Psychological wellbeing is largely about resilience - the ability to cope with and bounce back from stressful situations and experiences.
A simple way to think about resilience is to use the stress bucket concept. It shows how stress can build up unless you find constructive ways to manage it.
As everyday stress builds up, your resilience decreases. When you manage this stress, your resilience increases.
Taking measures to ensure you maintain a high level of resilience means you're better prepared to deal with stressful events when they occur.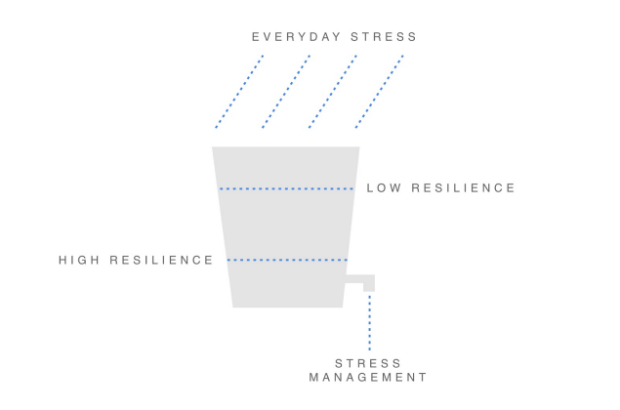 Case study
Last year, the Police Digital Service - a user-centred design team at the Home Office - conducted a discovery into online child sexual abuse and exploitation investigations.
The emotionally sensitive topic posed a significant risk to the team's mental health and wellbeing. The user researchers, in particular, were at risk of exposure to distressing case details and graphic material, and therefore vicarious trauma.
To manage these risks, we set ourselves three goals:
Ensure anyone working on the project is psychologically resilient and aware of the risks.

Ensure the ongoing safety of those working on the project by providing them with sufficient ongoing support.

Ensure only those working on the project are exposed to any content which could adversely affect psychological wellbeing.
Framing the risks in this way gave us greater control over them, but what did that mean in practice?
Building a team
Firstly, working on the project had to be voluntary so anyone could opt out at any time.
Before the project could start, all volunteers were briefed on the risks, and screened for psychological resilience and existing signs of mental health problems.
Once this was done, each volunteer had an interview with a psychologist, completing questionnaires on mental health conditions like anxiety and depression.
To measure our resilience we completed a Holmes & Rahe stress scale - a useful tool to remind yourself of the factors affecting resilience.
It lists 43 life events which commonly contribute to stress, from the catastrophic (for example, grievances and major life changes) to the everyday (for example, sleeping habits and holidays).
It then generates a score which indicates your current level of resilience.
Providing support
The most critical form of support we put in place was continual access to the psychologist who'd conducted our screening interviews. They monitored our resilience and well-being every three months and provided one-to-one support during the project.
We also provided emotional support to each other, being vigilant to changes in each other's emotional states and encouraging a team culture of openness and trust.
Using the bucket analogy, we also took measures to address everyday stresses and stop them from building up, which included:
agreeing aims, objectives and deliverables early on
not spreading researchers across multiple projects
keeping sudden changes in scope or timings to a minimum
booking and paying for travel and accommodation in advance
Sharing work
For the sake of those not working on the project, we had to ensure we were collecting and storing our data in a safe and controlled manner.
To prevent anyone from accidentally accessing or being exposed to our research, every member of the team used a screen guard and we stored all our work in a password-protected folder.
A strict policy was also agreed within the team not to discuss the project in the open-plan office and all meetings were held in private meeting rooms or on private communications channels.
We also scrutinised all of the team's outputs to make sure we weren't sharing anything potentially distressing with anyone who hadn't been through the screening process.
It was important to only share what was pertinent when discussing the project with non-team members and to check what level of detail they required from us.
Did it work?
Yes - the measures we took ensured all members of the team were able to conduct their work with minimal impact from the psychological pressures of the project.
It's normal for those working in the Police Digital Service to move between projects, but despite giving everyone the freedom to opt out at any point, no one was advised or made a request to be taken off the project.
We're all continuing with this work eight months on and the team is growing.
We also effectively controlled how we shared our research outside the team and continue to ensure this is the case.
Key things to remember
To summarise, remember to:
think about psychological safety in terms of resilience – you need to prevent your stress bucket from overflowing
reduce the level of unpredictability on your project to avoid unnecessary additional stresses
carefully consider who is involved in the work, what their individual needs are and how you will ensure their safety
give everyone on the team the option to opt out at any point
pay close attention to what you're sharing with other people and use an appropriate level of detail when you do