Let's get something straight, 6 months ago I knew a bit about the Civil Service (having been a consultant) and pretty much nothing about the Home Office (apart from applying for a passport).
Joining the Home Office
Since joining I have visited 8 government departments, 15 Home Office sites and spoken to maybe 250 people.
At the same time the Chief Technology Office has expanded from 20 to 55, my team from 2 to 5 and there is a mandate to expand Software Engineering by 5 times. Who said the Civil Service can't do things fast?!
If you want to understand how Heads of Role in the Digital, Data and Technology (DDaT) profession are powering this then read on.
Let's wind back
Why am I here? Well I really wanted to use my experience as an Engineer (my profession) - Dev team lead and assurance on big stuff to good use.
The Head of Role job seemed a good match but a bit different, and the Civil Service seemed like an interesting place that would complement my previous experience.
How a Head of Role contributes to change
It's a key position in forming how our profession (all the people aligned to Software Engineering as a career, in my case) and the organisation works.
But it isn't one size fits all: as a Head of Role you get to form your approach and tools around the community and business needs, and this is satisfying.
Looking at some of the pillars of successful delivery, the Heads of Role contribute to:
work out who the right people are, form plans to transform the organisation (with the organisation) into the right shape and skills base. Recruit these people or re-shape to fit
set the benchmark for what good looks like in your profession. This is a process piece but you also get to monitor and improve what delivery looks like. It's not a dry exercise – relying heavily on community
keep people informed about what's going on in their profession, the DDaT area, the wider Home Office community and across government by making sure they have the skills and understanding to deliver against our objectives
ensure that supporting technology is working, and if not collaborate within DDaT to fix it
There is also a big dependency between professions here (you can't have 1000 Engineers and one user researcher and expect effective delivery) so dialogue with your peers and the organisation to form our delivery is key.
Making change happen
It sounds like being a Head of Role is challenging; whilst this is undeniable (read this as positive) there is a load of support available. We have a team supporting all the Heads who are there to monitor and facilitate.
Our senior management are fully on board and the government communities are great. The organisation is really pulling for change, so gaining traction isn't a problem – it's good to be challenged to move faster!
But this is just my experience, and each Head of Role is going to have a differing background, experience and focus.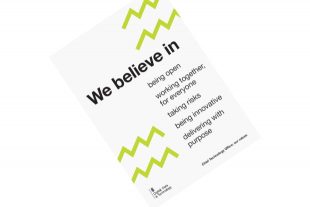 This is what civil servants look like now. We're setting high standards and we're building for the long term.  In addition to the Heads of Role positions we are recruiting for a number of other positions.