I'm Clare Young, Head of Agile Delivery in Home Office Digital. My job involves building and leading the delivery manager community and promoting the use of agile ways of working in the Home Office.
Agile is an iterative and incremental method of managing the design and build of digital products and services. It focuses on delivering something functioning to users quickly.
As Katy wrote last month, we are doing new and exciting things to deliver excellent digital services that meet the needs of both members of the public and civil servants.
We believe that an agile and iterative approach to delivery goes hand in hand with putting the needs of our users first and is the only way to work to transform government (for more information of what this looks like in practice, watch this video to see how the Government Digital Service is using agile).
Home Office Digital delivery teams work in an agile way (using Scrum or Kanban methodologies). We see many benefits to this way of working.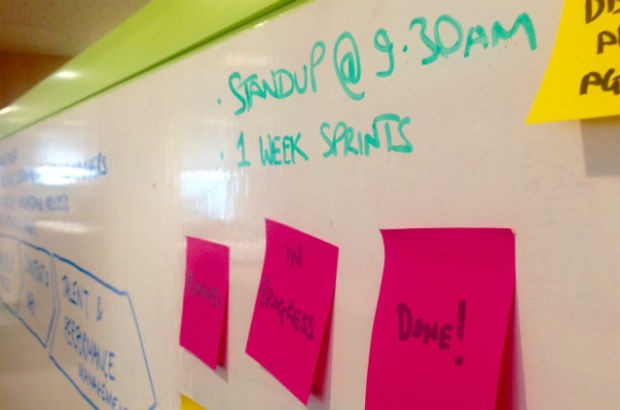 Transparency
Agile encourages our delivery teams to be transparent. We share what we're doing at regular show and tells and display how we're doing it throughout the space we work in. This makes our work environment colourful and full of life, but more importantly it means everyone can see what teams are doing, how delivery is progressing and ultimately hold teams to account for delivery.
Team work and communication
Agile revolves around team work and communication. Our delivery teams are the experts and in order to deliver they must work collaboratively by talking, sharing and encouraging each other. Where possible teams sit together and when they can't, teams use technology to communicate constantly. Delivery managers help build this productive working environment by removing blockers that stop teams communicating and getting stuff done.
Changing scope
Agile is comfortable with changing scope, something that is inevitable in a fast paced organisation like the Home Office.
We know we're delivering the right thing because we take time to carefully understand user needs. Teams then work with service managers to set clear delivery goals but they retain flexibility by regularly planning and re-planning to deliver what is highest priority at the time.
Structure and control
Agile encourages a sensible amount of structure and control. Not too much that delivery is slowed down but enough, at the right time, so decisions are made, the team is clear about their goals so they can focus and stakeholders are well informed so they can support delivery e.g. by releasing funds or providing information needed by the delivery team.
Reflection and continuous improvement
Agile is self reflecting and improving. We accept that we can't make things perfect straight away, especially when we're trying out new things. But this is okay as long as we are always seeking feedback and changing the way we're doing things as a result.
This goes for all parts of Home Office Digital, not just the delivery teams and helps us to grow and get better at delivering.
We'll use this blog to tell you more about how we're using agile across our teams and making improvements to the way we work. Do let us know what you think in the comments and how you are using agile in your work.
Let's share
Do you have a different approach or thoughts on what we're doing? We're open to further improvements in how we approach digital transformation and would love to get your thoughts, inputs and experience in the Comments section below or via twitter. You can also follow me on twitter - @clare0young