My name is Katy Arnold and I lead a team of designers and researchers at the Home Office. We are part of Home Office Digital and we work on digital projects as part of the transformation of the department.
It was only a year ago that my boss, Jake Hawkins, brought me and the other Heads of Profession into Home Office Digital. I was asked to build capability, raise standards and up-skill staff in User Centred Design techniques. It's been a very busy 12 months: A year ago there were only 2 members of staff doing this work; now we have 20 civil servants in the community.
User Research and Design are still pretty new disciplines within the Home Office and so I thought I would share a little bit of how we work and what we do.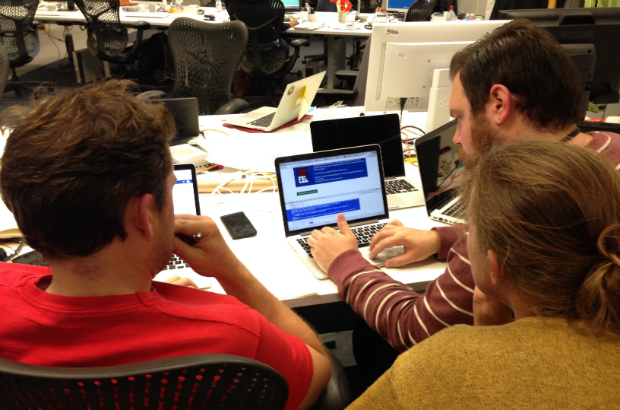 Reducing risk and saving money
We know that when users make mistakes during transactions, it can be expensive to resolve — both for users and for government. Our work helps to ensure compliance with legislation by reducing genuine user errors and by making it easier for people to do things themselves online. We make it more likely that they won't call us up when they get stuck; handling enquiries from the public is one of the most expensive things we do.
Another important way we save money is by making sure we build the right thing. Our work reduces the risk that teams build something which people won't use.
User Researchers use techniques and methodologies drawn from psychology and the social sciences. They use these to build up a solid understanding of the needs and motivations of our users. Our User Researchers form a close partnership with our Designers, who are specialists in interaction and interface design, and our Content Designers, who create clear, user-led content. Together we build simple, easy to use services.
It's not about what users like, or prefer
It's about understanding user need, and meeting those needs through an Inclusive Design. We do this by going out into the field, to the places where users are, and observing them in context. Talking to users in the environments where they live or work is the best way to find out what they really need from the services we build.
We put together just enough of a prototype to test our early ideas for what might work — and then we put it in front of users as early in the process as we can. This means that we can learn quickly what works, and what doesn't work. By repeating this process as often as we can, we move towards a design which makes sense for users.
It always works better when everyone is involved
Don't expect to see Researchers and Designers sitting behind desks all day, or to see long reports or design specifications. Our delivery teams need to absorb findings quickly so we work with videos to record usability testing sessions. We use rapid analysis techniques such as affinity mapping to share insight quickly.
We work best when we work collaboratively, so do expect to get involved in things like design workshops and sketching, and do expect to be invited to observe research and testing sessions. Come along to our project Show and Tells to find out what we're doing and ask as many questions as you like — we're happy to share what we're doing.
Lets share
Follow Katy on Twitter @katyarnie
Want to get involved? Become a research participant to help us make Home Office services better. Email us here: UserResearchDesign@homeoffice.gsi.gov.uk