Researchers in the assisted digital (AD) team at the Home Office have been working closely with UK Visas and Immigration (UKVI) to provide a service for people who need digital help completing their immigration applications online.
Together, they've researched and developed a UKVI-wide assisted digital service. Launched on 25 September, the service covers AD support for all UKVI online products. 
 Assisted digital services from UKVI
UKVI has 3 ways of providing support to users who don't have the access, skills or confidence to use digital services on their own:
telephone support – applicants are transferred to a skilled Migrant Help UK advisor, who will help them complete their application form online
Face to face support in libraries – applicants can either walk in or book time with library staff to get help accessing and completing their online application form
Face to face support at home – a We Are Digital tutor will visit applicants in their home and help them complete their online application form
The service is delivered in collaboration with We Are Digital, the Society of Chief Librarians, Scottish Library & Information Council and Migrant Help UK. Users are given help completing applications online, but are not given immigration advice.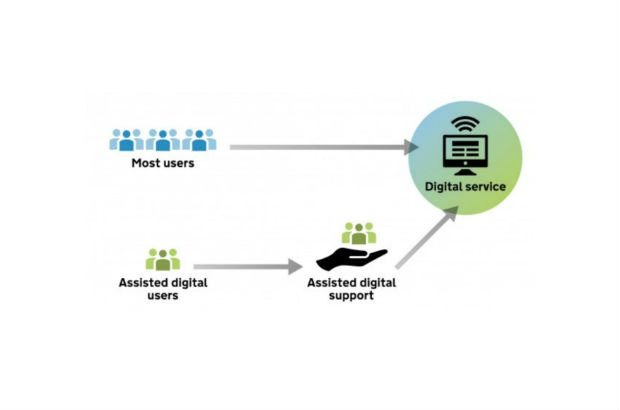 Why provide assisted digital support?
As part of the Digital Service Standard, delivery teams are expected to show at assessment that they've understood the needs of their users and delivered support through the appropriate channels.
The UKVI assisted digital support model is a great example of how to meet user needs. It helps people who are not online to make immigration applications and will help upskill people for the future, in line with the government's Transformation Strategy.
How can service teams meet the needs of AD users? 
Delivery teams developing new digital services are expected to:
conduct research with low skilled users of their service to understand their needs
test their service with low skilled users
understand whether they need to provide AD support for their service
use research to decide on the most appropriate support channels to meet the needs of their users
understand if any changes need to be made to their current support services to ensure they fully meet the needs of users
Help with researching and designing AD services
When researching and designing their service, delivery teams can:
read research reports written by providers of AD support
arrange to shadow staff at support centres relevant to their service
ask support centres to help with recruitment of low skilled users to take part in research
For advice and help on providing assisted digital support for your service, email the Home Office assisted digital team at AssistedDigital@digital.homeoffice.gov.uk.