When designing a service, accessibility should be a priority. As well as being a legal requirement, it's our duty to make sure that our services can be used by everyone.
But while I was on the Home Office introduction to accessibility workshop, I discovered that's not always the case. Often, teams are unsure about accessibility – how to factor it into their work, or who should be responsible for it.
It's not intentional, but services have failed assessments because they're not accessible, which delays delivery to users. When accessibility is added down the line, it means more work, money and time spent fixing it. And that got me thinking.
Having a conversation
I left the course feeling puzzled about why accessibility isn't always an integral part of the process when developing a service. There needs to be more understanding about why accessibility matters and how teams can make sure they're building accessible things.
So I got I touch with access needs leads James Buller and Emily Mahon-Ball to talk about ideas.

We decided to design some posters – as a follow on from the success of the Dos and Don'ts posters, but also to create something that colleagues would see every day. We wanted to use strong statements to highlight the importance of accessibility, and also to remind teams of their duty to create accessible services.
We worked together to write statements that would best reflect these aims. Here's what we came up with:
Inclusive design is better design for everyone

Researching with people with disabilities quickly highlights usability issues

No user should be excluded because of disability

You can't meet the Digital Service Standard without designing for and researching with users with access needs

Everyone has abilities, and limits to those abilities

We are all only temporarily not disabled

Accessible services are cheaper
We thought the posters could then be made into a series under a banner people could identify with. There were a number of suggestions, including 'The case for accessibility', 'Build accessible services' or 'Design accessible services'. We decided to go with 'Design accessible services' because that was the focus of this work.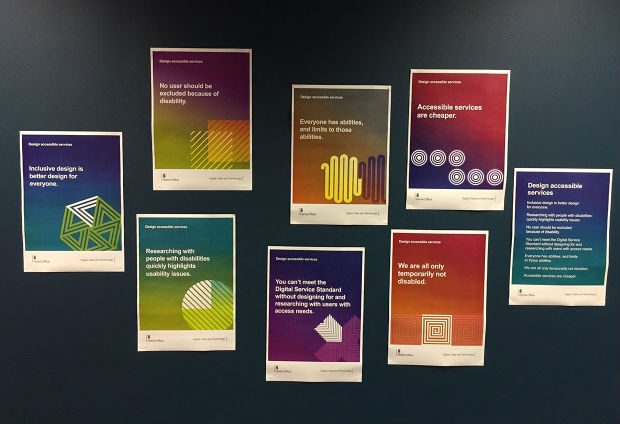 Consulting with people with disabilities
The white shapes on each poster represent the 'accessibility area' of a service - an area that needs to be part of the whole thing. It's equal and inclusive of the whole shape, then coloured white to highlight it.
As with all projects, whether for print or online, we wanted to run some user research, so James suggested we contact staff who have disabilities. We showed the posters to people who have a range of impairments including dyslexia, ADHD and mild visual impairments. This gave us valuable feedback on which designs worked best and also told us what elements were not working.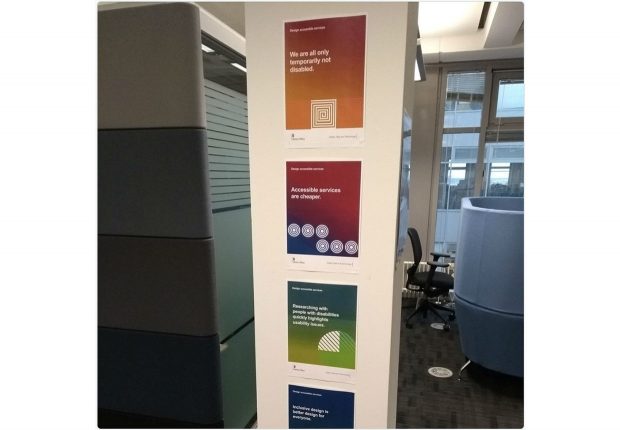 Getting the posters out there
We were eager to start getting the posters out so teams and organisations could start using them. To help spread the word, James talked about the posters during presentations he made at a cross-government accessibility meet-up and the Gov Design meet-up.
James also put them out on social media and the response has been amazing. It's been great seeing them being used in other departments too.
We also had feedback about the wording in the 'We are all only temporarily not disabled' poster. Some people thought it might be hard to read, particularly for those with dyslexia. This is true. However, it's intended to be thought provoking and doesn't quite work if phrased differently.
The statement relates to situations when people with an impairment are not disabled by the context. For example, a visually impaired person listening to a radio. We included 'Everyone has abilities, and limits to those abilities' as an alternative.
We welcome feedback and will continue to iterate the posters to meet user needs and changes in the accessibility area.
Getting these messages out there will keep accessibility at the front of everyone's minds when designing services and help us deliver a better digital service for everyone.
Please keep sharing and downloading the posters – they'll make a difference and help spread the message of designing accessible services. Also let us know if they have helped your team.
Download the 'Design accessible services' poster set for your team.