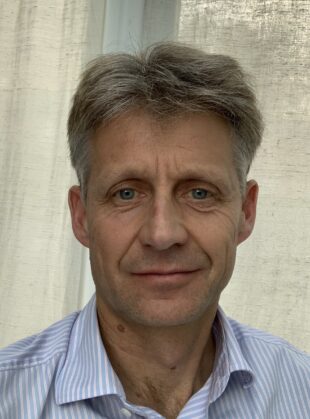 I'm Simon Bourne, and three months into my new role as Home Office Chief Digital, Data and Technology Officer seemed like a good time share what I have been up to. It is a huge honour to work in an exciting organisation committed to delivering cutting edge digital, data and technology solutions for the public good.
I have taken over from Joanna Davinson, now the Executive Director of the newly created Central Digital and Data Office (CDDO). Joanna remains a great friend to Home Office Digital, Data and Technology (DDaT) and we are completely plugged in to her exciting agenda and vision for digital, data and technology across government. It will be great to work with her over the next 18 months to make those plans a reality.
A key part of my vision for DDaT is transforming the citizen experience - ensuring that our digital services address your needs. A big part of my role is to see the whole user journey. Much of what we do in DDaT directly effects the public's experience of the Home Office. I am very conscious that we must be 'citizen focused' – you are our customers.
Building our capability
Building our capability and diversity is also very important. Like all employers we are looking to recruit the best and most diverse talent we can - having the right skills within our civil servant workforce is crucial to building a sustainable organisation.
Part of that is looking beyond London and the south east for talent. I grew up in Nottingham, and since graduation have spent most my professional life in the north and am now based in our Manchester office. I am really keen to show that we're serious about recruiting regionally. The challenges of Covid-19 have shown that teams can work collaboratively no matter where they may be working from.
We don't need to be in the south east to do that – besides Manchester, DDaT has offices in Liverpool, Southport and Sheffield too, as well as Croydon and London, so we get about!
New vision: delivering end-to-end digital services to users
I joined Home Office DDaT after six years as Chief Information Officer at the Co-op Group – but working in the public sector is by far the most worthwhile and rewarding role of my career to date. I am no stranger to the challenge of delivering value for money whilst improving services, but doing it when the public is your customer and when your work will hopefully improve and change people's lives – that's responsibility!
And seeing those changes in action is enormously satisfying.
This year we will be focusing on:
increasing the number of public services that you can access digitally
ensuring our Home Office staff have the right tools that enable them to work both efficiently and effectively to support you
better understanding your experience of interacting with us digitally so that we can improve those interactions
We want to focus on improving the citizen experience - to properly understand your interactions with our technologies so that we can deliver end-to-end digital services that are simpler and more streamlined for you. I'm thinking, for example, of the process of applying for a visa or renewing your passport.
Our aim is to be digital by default, prioritise innovation and consistently invest in the right technology to benefit colleagues and you, the end user.
DDaT: a great place to work
This is an exciting time to work for the Home Office as we develop some of the most challenging and transformative technology projects the department has ever seen.
If a career in technology that helps deliver first-class solutions to the public for the greater good sounds exciting please keep an eye on the Civil Service Jobs site as we are developing a pipeline of talent and are recruiting heavily into tech and digital roles.
There are multiple ways to enter a job in digital, data and technology at the Home Office, from apprenticeships, career returner programmes to Digital Career Development Programmes.
By joining us you'll have a chance to shape the future and support our goal to provide exceptional services for everyone.
For me personally, joining the Civil Service has been a tremendous honour; leading digital, data and technology means I have the opportunity to really contribute something of meaning – that matters to me. If it matters to you, we might have just the role for you. Join us and see what a difference you can make.