Sharing insight is at the heart of what I do as a lead user researcher on the Immigration IT portfolio at Home Office Digital, Data and Technology. Which is why I was excited about a recent exchange trip to the Department of Internal Affairs (DIA) in New Zealand.
The UK and New Zealand are 2 countries in Digital 5, or D5, a network of 5 leading digital governments. D5 was created so its members – the UK, New Zealand, South Korea, Estonia and Israel – can meet to share best practice and expertise.
In 2014, London hosted the first summit, a starting point for us to get together, discuss our experiences and spark ideas. My trip to New Zealand was a continuation of that – an opportunity to learn from our D5 colleagues, to see what's proven to work and also what doesn't.
Here's what I found out…
Co-design
Researchers and designers in govt.nz use the phrase 'co-design'. A lot. In practice, this means they try to involve all stakeholders and intermediaries in the design process to make sure needs are met. They co-design when designing services, creating meeting agendas and planning office space.
They don't do as much contextual research with users as we do, but I think we could co-design to encourage greater support and investment of time from internal stakeholders and decision-makers in the development of our digital services.
Govt.nz intends to build Communities of Practice as it changes culture around digital from the bottom up, something we've done successfully in the UK. We could share our learnings and help them plan where to start.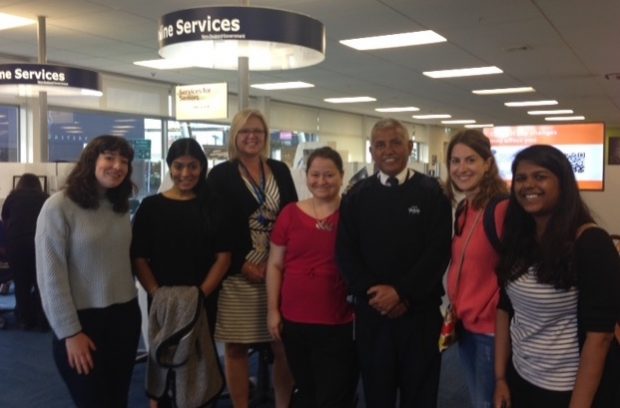 Influencing behaviour through service design
Transactional digital services don't sit on govt.nz. Instead they are hosted on many departmental websites. Also, there isn't a mandated digital service standard, as there is on gov.uk. We found that surprising, given our experiences of how much money and user pain this can save.
But what they are advancing is end-to-end service design that recognises users aren't experts in, say, tax or immigration law.
Users can link up across government services on and offline, which results in better outcomes for citizens and government. For example, they can access side-by-side support to get online for applications such as citizenship, passports, driver's licences and birth registrations.
Caseworkers say they get cleaner data this way – there are fewer mistakes on forms and in the evidence they need to make decisions. The cost of support is more than offset by the savings in processing times, including the reduced need to ask users for more information.
Another example can be found at the Inland Revenue, which has linked up its back-end services and simplified online journeys. Data already collected can be played back to users. This, and in-built validation, is seeing more users get their online tax returns right first time. This has the knock-on effect of reducing the number of people who don't file tax returns at all.
Differences in scale
New Zealand has a population of less than 5 million, so its civil service is much smaller than ours. This has the benefit that network chains are smaller – it only takes a couple of connections to find a contact in another department – and there is less distance between ministers and officials.
There is more scope for influencing up the chain of command, which helps get decisions made quickly.
The flip side of this is a risk-averse approach to service design and development. There is a reluctance to challenge decisions too strongly because of fear of upsetting contacts in other departments or damaging personal reputations. This means digital transformation is taking longer than it should.
Innovation out of necessity
New Zealand has suffered more than its fair share of natural disasters, but govt.nz has met the challenges these have brought.
The 2010 and 2011 Canterbury earthquakes damaged many buildings in Christchurch, including the offices of the Inland Revenue and the Ministry of Social Development. These departments came together to create a shared front-of-house initiative, which included online self-service workstations for both agencies to help their assisted digital users.
At the back end, these agencies worked together on privacy rules and their internal processes to allow sharing of user data, meaning users only had to apply for entitlements once, rather than re-entering their details for many services, including Student Loans, senior services, housing and benefits.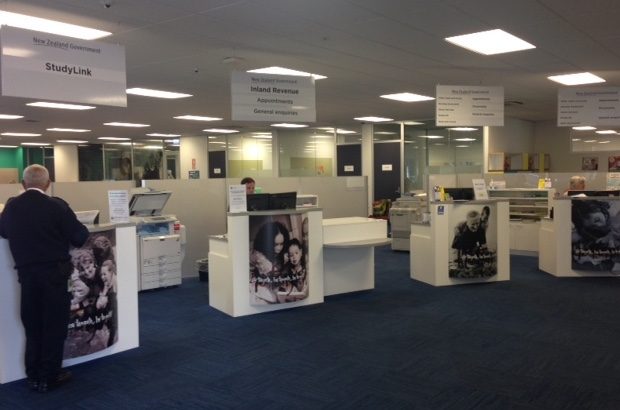 Data sharing across services
There's a push on data sharing across government departments. Users are being asked to give informed consent to allow their information to be accessed across other services. There are plans to use this data to develop pre-emptive notifications for services such as birthday triggering, for example, 'You're now entitled to claim…'
There are also plans to develop more responsive content based on what's already known about a user.
Learning how govt.nz works with all government departments to improve the way they find, access and use data was a vital part of the trip. The Home Office is looking at the creation of new data infrastructure and governance on data, including data sharing and the appropriate use of these new techniques. Knowing we can learn from our D5 colleagues is a huge benefit that will save time and money.
Doing more, not less
The second GDS design principle is 'Do less'.
It explains that, 'If we've found a way of doing something that works, we should make it reusable and shareable instead of reinventing the wheel every time.'
Services and interfaces do the opposite of this on govt.nz. Design patterns are not reused and the difference is intentional – different services are designed to have a different look and feel. I'm not convinced that user research supports this approach.
In the UK, we know our evidence-based design patterns make services consistent and simpler to use.
Influence of Mãori culture
New Zealand is a secular state, but the influence of the Māori – who make up 15% of the population – runs through the country, including in government.
The idea of 'Kaitiakitanga' – the concept that respect and guardianship are handed down generations – is particularly prevalent. Kaitiakitanga helps in planning beyond the relatively short 3-year parliamentary cycles, by considering the long-term legacy of government initiatives. Measuring the success of this is as much of a challenge in New Zealand as it is in the UK.
The trip reminded me that the spend controls we have and the digital service standard are fantastic levers to help us deliver digital services.
In the UK we've taken great strides to make services digital by default.
Govt.nz is ahead of us in linking services together, legislating for data sharing and using application programming interface so users have more seamless interactions with government.
Their approach to side-by-side assisted digital support is exemplary and something we hope to use in our immigration services.
The Home Office will host 5 delegates from DIA this autumn and New Zealand will host the next D5 summit, in February 2018.