I'm a recent interaction design graduate. The course gave me ideas about what path my future career might take, but the idea of designing services for government was something I aspired to.
Which is why I applied to become an intern with Home Office Digital, Data and Technology (DDaT).
Designing for everyone
I started my interaction design internship in September. Soon after, I went on the GDS agile training course, which is where I was introduced to the government design principles. 'This is for everyone' – one of the principles – struck me immediately.
Knowing the importance of designing for all users and ensuring that accessibility must always be considered has been a big part of my development. I've learnt it's important to prioritise function over features, and to highlight user needs over wants to create the right solution.
The agile world
Before starting at the Home Office, I'd heard about agile but never understood what it was. Now, it's part of my working life. Highlighting successes and blockers at standups and retrospectives helps me reflect on how we're progressing and the challenges ahead. Working in a multidisciplinary team has let me learn about different roles and how a team fits together.
Design is a team sport
It's been clear from the beginning that there's a great design community across government and I'm excited to be part of it. It's easy to get feedback quickly from interaction designers in the Home Office and other departments. I also collaborate with other professions in my team, including user researchers, content designers and developers. This collaboration means I'm not designing alone.
Back to basics
I've learnt that it's OK to go back to basics with pen and paper when designing. Using simple sketches and flat designs are just as useful at the start of the design process as prototyping is at the end.
Paper prototyping is a great and rapid way to test simple designs to gain feedback. We can still user test designs that aren't polished or fully functioning. Keeping things simple can save time in the long run.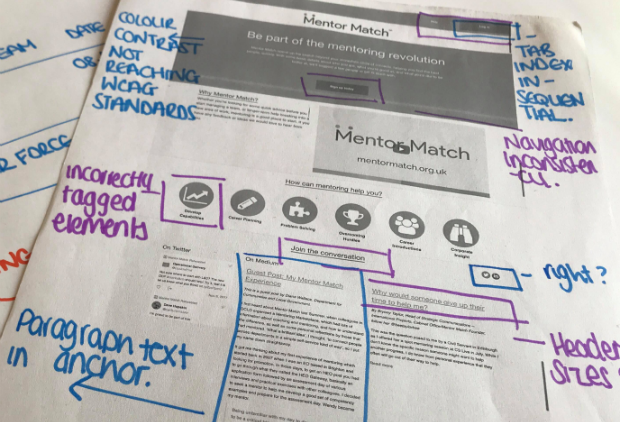 Bringing designs to life
Learning to use the GDS prototyping kit has been really exciting and has helped develop my coding skills, including JavaScript, to make my work more dynamic and easier to use. It's helped me bring my designs to life so they can be tested by real users.
Research is an essential part of building and testing digital products – from the discovery phase to the continuous improvement of live services. Before my internship, I did minimal research on projects. Now, it's something I'm involved with throughout.
It's been great to take my designs into research sessions to see how users work with them. Feedback is so important and doing research has helped highlight areas that I might not have considered.
Though I'm only 5 months into my internship, I've already learnt so much. I thoroughly recommend the programme to others looking for a stepping stone into a career in digital, data or technology.