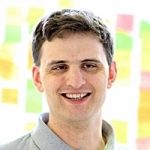 James Buller
James is a User Researcher at Home Office Digital. After 14 years in the third sector, he joined in September 2016 to work on the Global Entry and Registered Traveller services.
He's also leading on Access Needs. This involves coordinating our specialists with those at GDS and other organisations. The goal is: improving our understanding, skills and practices, relating to people with disabilities or conditions that affect their communication or computer use.
James Buller, Access Needs Lead, and Sue Spevack, graphic designer, tell us why it's important to design for all users.
James Buller explains how the Access Needs team can help products and services at all stages of development meet the requirements of the Digital Service Standard.
If you are not careful you can antagonise users before they have even started testing your service.