As the first content designers to join the Home Office internship programme, we wanted to share our experiences of our first few months as interns - from our work on live projects to writing content for GOV.UK.
How we found out about the internship
We came to the internship from different walks of life.
Ounie worked in book publishing for 5 years, before seeking a switch of career into content design. She found a link to the programme on a media jobs site while searching for an opening into the world of digital content.
Intrigued by the training on offer, she hunted for more information on content design and soon realised the internship offered an exciting opportunity.
Tamsin first encountered content design in 2017, when she attended a 2-day course which featured examples of GOV.UK content.
She also learnt a lot from the book Content Design by Sarah Richards, who was head of content design at Government Digital Service (GDS) and created the content strategy for GOV.UK.
In Tamsin's final year of university, a helpful relative sent her a link to the internship on Civil Service jobs and she decided to apply.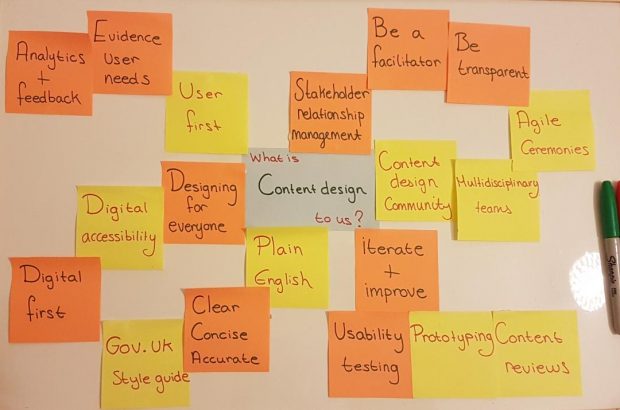 What content design means to us
As content designers, we need to be able to communicate complex processes and information in a way that's easy to understand.
We always start with user needs and try to make sure that user journeys are the best they can be. This means looking at data and evidence so we can give people the content they need at the time they need it, and in the most appropriate format.
We've also been learning about accessibility - good content design means making information available to anyone who wants to read it. This is especially important when building government services, which have to be accessible to everyone who needs them.
The power of 3
For content designers, the internship is split into 3 parts. Throughout the year we work in different teams, spending 4 months in each of the following:

Home Office Digital, Data and Technology (DDaT)

Home Office External Digital Communications

GDS
We're assigned a project mentor for each placement whose role is to help us understand what the team does and what our role is. We also have a career mentor, who we meet throughout the year.
What we've learnt so far
As we've completed our initial placements, it seems the perfect time to reflect on some of the things we've done.
Tamsin spent her first placement with External Digital Comms, during which time she learnt:
how to create, update, and publish content on GOV.UK in line with the style guide and content design guide
to recognise and use different content formats appropriately - including detailed guidance, campaign pages, and news stories
to work with policy advisers, GDS content designers and press officers
Ounie spent her first placement working on a service in the Immigration Technology Portfolio, during which time she learnt:
the crucial part content designers play in agile service delivery teams
how to do a content audit for a service and offer recommendations based on the Service Manual and  requirements set out in the Digital Service Standard

the support that exists within the profession - there are regular meetups, Slack channels and forums filled with helpful chatter about best practice

how content designers in different areas work, by shadowing projects in Her Majesty's Passport Office and the Police Digital Service
Running a project
Home Office DDaT interns spend 1 day a week working together on a charity project, in small multidisciplinary groups.
We're paired with the charity for a 6-month period, during which time we're expected to gather user needs for a new service and create prototypes based on these needs.
These projects give us the opportunity to use agile tools and methodologies, work with stakeholders, and learn about other user-centred design and research roles.
Looking forward
As Home Office digital interns, we've got a great support network - both across the internship programme and within our community and project teams. There are plenty of opportunities for professional development and training.  
We get to work on a variety of impactful projects every day and have learnt an incredible amount already. It never gets dull.
We've still got about half of our internship left and cannot wait to see what else is in store.